California Diver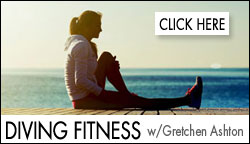 Dive Fitness Research: Specificity, Strength and the Pipe Puzzle
California Diver
May 11, 2017
I became a Specifist in the early 1950s. I became a proponent of the axiom that people make highly specific adaptations to the demands of their environment. As a Specifist I began to study the barriers to improved performance in, on and under the water. These barriers include methodology of diving and underwater work, the impact of biomechanical problems brought on by diving equipment and tools as well as changing environmental conditions… Download or view on California Diver.
Taking A New Spin in Diving Fitness: AQUACYCLING
California Diver
April 29, 2017
It's always great to meet divers, instructors and dive center owners that understand and embrace the importance of physical fitness for diving. Jeffrey Davis at Aqua Hut in Toledo, Ohio "gets it". Aqua Hut is a full-service PADI and SSI dive center focused on all aspects of the diving lifestyle including education, safety, travel, fitness and family. In addition to swimming lessons and physical therapy in the dive training pool, Jeff is offering AQUACYCLING for his diving clients, instructors and the surrounding community… Download or view on California Diver.

New ScubaFit® Infographic Reminds Divers to Get Fit and Stay Fit
California Diver
April 19, 2017
"Fit Divers are safer divers, tend to dive more often, and are more likely to advance dive training". This has been a consistent message of Gretchen M. Ashton since she started ScubaFit® in 2006. "An infographic is fun way to remind divers of the importance of physical fitness for diving and help divers implement fitness into a diving lifestyle", says Gretchen… Download or view on California Diver.
Join Women's Water Sports Weekend and Dive Day in La Jolla, California July 14-16
California Diver
February 28, 2017
Szilvia Gogh, founder of Miss-Scuba™, has partnered with Gretchen M. Ashton of ScubaFit®, Isabelle "Izzy" Tihanyi and her partner and twin sister Caroline "Coco" of Surf Diva®, the annual PADI Women's Dive Day 2017, and Ocean Adventures Dive Company to create a celebration of the female spirit and finding excitement in life… Download or view on California Diver.

The Ocean is Calling – A Dive Fitness Wake Up Call
California Diver
February 17, 2017
As divers begin to thaw out from winter and the ocean beacons, it's the perfect time to reassess individual fitness for diving. Get ready for dive season with this total body fitness wake up call… Download or view on California Diver.
Surviving, Thriving and Diving! An Interview with James Holmes, Cancer Survivor
California Diver
October 3, 2016
Scuba diving is an experience of mind, body and spirit that only divers fully understand. So much so, that the desire to dive gives purpose to practical matters of living well, such as exercising, eating healthy and working hard in order to participate in the sport for as long as possible… Download or view on California Diver.
Pokémon Go Combines Fitness and Fun for Divers
California Diver
July 19, 2016
Walking is one of the most convenient ways to improve and maintain physical fitness for diving. The new Pokémon Go app is definitely getting divers moving by combining fitness with fun. The app uses the surrounding environment to generate Pokémon… Download or view on California Diver.
Sea Star Inspiration: Exercise Aids Regeneration for Dive Fitness
California Diver
June 14, 2016
Sea stars fascinate us with their ability to regenerate. Some sea stars need the entire core of their body to regrow arms, but others can wholly develop a new body from just a piece of an arm and small portion of their core. It takes about a year to grow a new arm… Download or view on California Diver.
Fitness for Diving Around the World: The Hawaiian Islands
California Diver
May 18, 2016
Divers are best prepared for diving in the Hawaiian Islands with a better than average level of fitness. Specifically training a combination of strength and endurance for three-months is a good foundation… Download or view on California Diver.
Fitness for Diving Around The World: Grand Turk
California Diver
April 25, 2016
Turks & Caicos Islands are nestled in the Atlantic Ocean at the southernmost tip of the Bahamas due north from the Dominican Republic. Consisting of two island groups, Turks and Caicos is separated by the 7,000-foot deep Turks Island Passage… Download or view on California Diver.
Dive Fitness Perspectives: An interview with Zale Parry
California Diver
April 3, 2016
Zale is a Pisces; the constellation and astrological sign named the Latin plural for fish. As the Greek legend goes, Pisces originates in the tale of Aphrodite and Eros, who leapt into the sea and transformed themselves into fish to escape the monster Typhon. They tied themselves together with a rope to make certain not to lose each other. With the sign element water and the ruling planet Neptune, it is ideal for Hollywood star Zale Parry; athlete, diver, model and actress… Download or view on California Diver.
Fitness for Diving Series Introduction: Aerobic Exercise for SCUBA Diving
California Diver
February 26, 2016
The adventurous spirit of divers is most evident in the willingness to travel thousands of miles to explore the oceans of the world. Closer to home, passionate divers take the sport to quarries, rivers, lakes and caves. Dedicated divers dive in all climates and conditions… Download or view on California Diver.
Diving Fitness: The Top 20 Trends for 2016
California Diver
January 6, 2016
Results are in from the American College of Sports Medicine (ACSM) Worldwide Survey of Fitness Trends for 2016. Not surprisingly, Wearable Technology, such as heart rate monitors and pedometers, ranks number one on the list. Body Weight Training, High-Intensity Interval Training (HIIT), Strength Training, Educated Fitness Professionals, Personal Training, Exercise and Weight Loss, and Yoga, round out the top ten… Download or view on California Diver.

Dive into the Pink: Breast Cancer Survivors, Supporters Raise Funds For Research
California Diver
November 2, 2015
The first annual DIVE INTO THE PINK was a day of celebration, compassion, friendship, costumes and diving. "Today, we raised almost $1300 for the Young Survival Coalition and Project Pink Tank – not bad for an idea hatched a month ago. It will only get better from here," said Allison Vitsky Sallmon… Download or view on California Diver.

A Lifetime of Fitness for Diving: An Interview with Glen Egstrom, Ph.D.
California Diver
October 21, 2015
Dr. Glen Egstrom's research in diving performance and development of fitness principles are timeless. His diligent work, role model and influence, continues to inspire and permeate the sport, business and safety of diving. While developments in diving and equipment were taking place around the globe, right here in the heart of America and later the heart of Los Angeles, a… Download or view on California Diver.
Diving Fitness: Water Yoga for Divers
California Diver
October 19, 2015
Diving is a highly sensory personal experience. The feel of weightlessness and water on the skin, the steady sound of breathing and bubbles, and visual movements of fascinating creatures elicit healthful vibes. Pure joy is experienced in the freedom of flying with a current. Healing calmness is found by simply sitting in the sand and meditating on dappled streams of… Download or view on California Diver.

Diving Fitness: Healthy shoulders are vital to a positive diving experience
California Diver
August 27, 2015
Healthy shoulders are vital to a positive scuba diving experience. The mobility of the shoulder joint exceeds every other joint in the human body. It enables divers to reach behind, under, around, above and beyond in nearly unlimited directions and rotation. Consequently, by design the shoulder joint and its musculature are highly susceptible to injury all of the time and … Download or view on California Diver.

California Lobster Season Off To A Rough Start With 5 Accidents
California Diver
October 4, 2014
Lobster season in California has only been open for a week, but it's already been a tragic season, with 5 divers losing their lives off the Southern California coast. Four of the five divers who died were diving for lobster, and all accidents happened at night… Read more
Physical Conditioning Fast Track: Preparing for Lobster Season
California Diver
September 1, 2014
The March of the Lobsters is just a few weeks away and lobster hunters up and down the California coast are buying licenses, checking gear lists, taking refresher courses, and exercising to get in shape for lobster season. Exercising? Yes, it's just been added to the list!… Read more
Gretchen Ashton of ScubaFit® Launches New Online Dive Fitness Magazine
California Diver
July 24, 2014
Gretchen Ashton, Owner of ScubaFit, has just launched a new digital magazine dedicated to scuba fitness. FITDIVER now publishes 4 issues a year, with each issue dedicated to improving fitness for divers and other active sports enthusiasts… Read more

Hydration for SCUBA Diving and Fitness: Are you drinking enough?
California Diver
July 10, 2014
Good hydration is important to a successful exercise program and especially important to SCUBA divers to reduce the risks associated with diving. Some physicians will tell you that most people are dehydrated most of the time. This general introduction reviews how much of the human body is made up of water, what water provides for the body, how fluid loss occurs, and general recommendations for daily fluid intake… Read more

ScubaFit® Joins Dive Zone Radio: Fitness for scuba divers on the air
California Diver
December 21, 2013
ScubaFit® debuted this week on a new radio program for scuba divers. Dive Zone Radio airs every Sunday from 4:00 p.m. to 5:00 p.m. on 960 The Patriot. Dive Zone Radio is a continuing conversation about all things aquatic and adventuresome. Created and hosted in Phoenix, Arizona by NAUI scuba diving instructors Mark J. Hadrich and Lew Edwards, Dive Zone Radio is starting out quietly and is already the foremost radio show on scuba diving, dive and adventure travel, and marine topics in the western United States… Read more
Cindy Shaw earns ScubaFit certification
California Diver
October 8, 2013
Cindy Shaw, PT, OCS, BCB, the owner and director of Orthopaedic and Spine Care Physical Therapy (OSCPT) in Huntington Beach recently became a certified ScubaFit Instructor… Read more
Become a ScubaFit® Dive Instructor at the Long Beach SCUBA Show
California Diver
May 30, 2013
If you are a dive instructor looking to add value to your students and make them safer divers, consider becoming a certified ScubaFit® dive instructor. The ScubaFit® Diver Course is teaches divers who are new to fitness an effective approach towards both general fitness and fitness specific to diving, as well as an understanding of the physical demands of diving… Read more

Keeping Legs Strong for Scuba Diving is Not for Sissies
California Diver
April 24, 2013
When exercising the legs to keep them strong for scuba diving it is important to develop muscle strength, endurance and flexibility. The legs must be versatile for diving activities which place unique demands on the body. During this leg workout divers will benefit from imagining themselves: safely rising from a seated position under the weight of gear; climbing boat ladders; traversing uneven shore terrain; turtling distances on the surface, moving against and across currents; kicking into high gear in an emergency… Read more
Scuba Fitness: Hydration for SCUBA Diving and Fitness
California Diver
July – August 2012
Good hydration is important to a successful exercise prorgram and especially important to SCUBA divers to reduce the risks associated with diving. Some physicians will tell you that most people are dehydrated most of the time…. Read more

Double Trouble – Double Results
California Diver
May – June 2012
Often described as "big guns," the biceps are recruited along with the muscles of the back when the body is required to perform powerful physical activities, such as lifting and pulling. To maximize their full potential, and because of their integrated functiory the biceps and back are ideal muscles to train in the same exercise session… Read more
The Waterman's Workout
California Diver
March – April 2012
The spirit of the Waterman is best captured by Pablo Neruda: "I need the sea because it teaches me." The energy of the sea touches us spiritually and physically… Read more
Volunteers Needed to Dive the Coast for Ocean Organizations
California Diver
March 9, 2012
Divers along the 1000 miles of California coastline are gearing up for the largest mass scuba dive in the history of diving. Test dives are being done to gauge dive distance, depth and air, all of which will be formulated for diving longer distances during Dive the Coast scheduled for June 2013. Dive teams will first perform calibration dives to determine distance. Additional dives are relay dives where one team dives a distance then hands a flag to another team and so forth… Read more
PADI approves ScubaFit® Diver Distinctive Specialty Course
California Diver
January 10, 2012
Dive and fitness instructors alike can now become certified to teach fitness to divers. The Padi ScubaFit® course was developed by Gretchen M. Ashton, a certified fitness trainer and Stephen Mendel, a multi agency scuba instructor… Read more
Aerobic Exercise
California Diver
November – December 2011
The Tin Woodsman from The Wizard of 0z would not make a good scuba diver. Although, it would be great if scuba divers were able to as easily get a new heart… Read more
Kickin' It
California Diver
September – October 2011
When shore diving, divers often have to overcome an obstacle course to get to their favorite dive spot. Beach access may be by stairs and always includes walking across grass, concrete, sand, or rocks… Read more

Total Body Shape Up
California Diver
March – April 2011
Spring is here and it's time to "Get in Shape" and "Stay in Shape." Getting outdoors to a local park or the beach is a perfect way to energize a workout… Read more

Dive Fitness at Any (Every) Age
California Diver
January – February 2011
The current life expectancy in the United States is 78.24 years. Just think about it. A diver certified at 20 years of age has the potential for more than 50 years of scuba diving. During this diving lifespan many biological changes will occur. Beginning in early adulthood all body systems begin to lose capacity; muscle strength decreases, cardiovascular capacity diminishes, and body composition changes… Read more

Physical Conditioning Fast Track for Lobster Season
California Diver
September – October 2010
Lobster hunting requires physical conditioning over and above that of recreational diving. Attributes of the sport combine fast and steady finkick swimming with bouts of rapid whole body movement, over periods of hours and often consecutive days of diving… Read more