FitDiver® Magazine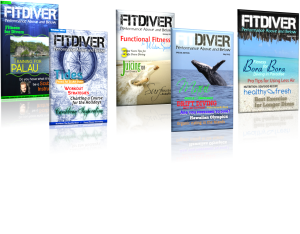 Subscribe to FitDiver® Magazine
Stay motivated with the FitDiver® Magazine. Each issue is filled with timely fitness and nutrition information for divers. Tips for staying in shape, FitDiver® Faves, and new exercises help keep you on track with your fitness for diving goals.
August 2015
Bora Bora is big and beautiful. Training tools and tips from the pros guide divers toward improved performance. Learn the most important form of exercise for all divers, try a fresh seafood recipe, and be inspired to fitness by images of tropical islands, white sandy beaches and crystal clear lagoons.

May 2015
The May 2015 FitDiver® Magazine is a FREE SPECIAL EDITION. Read it now
"A single diver is just a tiny speck in the vast ocean world, yet each dive is an enormous personal experience. Fitness, good nutrition and a healthy lifestyle keep divers in the water."
Aloha! Get in shape for SCUBA diving in Maui. This SPECIAL EDITION integrates the ancient Hawaiian culture of a well-balanced and healthy lifestyle with modern day nutrition and fitness. Island vistas, sea breezes and Humpback whales inspire divers to prepare for spectacular experiences that strengthen the body and nourish the spirit.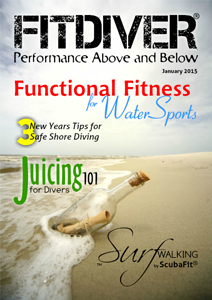 January 2015
Functional Fitness for Water Sports
3 New Years Tips for Safe Shore Diving
Juicing 101 For Divers
Surfwalking™ by ScubaFit®

October 2014
Tides: Fitness for Scuba Divers
Workout Strategies
Charting a Course for the Holidays
Caribbean Inspiration

July 2014
Training For Palau
Do You Have What It Takes? Be A ScubaFit® Instructor
Featured Exercise: Push Ups Made Easy
Recipes: Try Carribbean Light