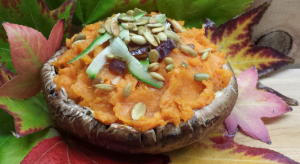 Sweet Potato stuffed Portobello Mushrooms are a delicious meal for scuba divers focused on eating healthy this holiday season. As the main course or a side dish all divers will enjoy the earthy fall flavors and aromas. Vegetarian divers rely on the portobello mushroom as a meat substitute. The mushroom has small amounts of macronutrients; is naturally low in calories, fat, and sugar, with nearly equal amounts of protein and carbohydrates, and a good amount of potassium. The portobello mushroom has a neutral mild flavor that is a blank canvas for seasonings that satisfy a wide range of taste preferences. This version of stuffed portobello mushrooms is prepared on a cedar plank to add smokiness.
Sweet potatoes have less calories than yams and are a good source of potassium and vitamin A. One cup is about 120 calories, with zero fat, six grams of sugar, 27 carbohydrates, four grams of fiber, and more than two grams of protein. The serving portion of sweet potato in this recipe in a large portobello mushroom cap is about one-half cup.
Sweet potato stuffed portobello mushrooms make a great warm and hearty meal before or after scuba diving.
Ingredients:
3 large portobello mushrooms for main course or six medium for side dish.
2 medium to large sweet potatoes.
1 medium Italian squash.
1 onion – optional.
3 Medjool dates.
1/2 cup of roasted and salted Pepitas.
1 teaspoon of each: Garlic (fresh, powder or juice), sage, cinnamon, salt and pepper
1/2 cup olive oil.
Preparations:
Preheat the grill or oven to 375 degrees. The oven may already be hot from baking the sweet potatoes. (see below). If using a plank, soak in water for 20 to 60 minutes. Bake the sweet potatoes in the oven at 400 degrees for 45 minutes then peel and mash ahead of time. This is also great way to use up left overs. To keep calories, sugar and fat low, butter and brown sugar are not added to the sweet potatoes for this recipe. Grate the uncooked Italian squash into thin strips. If adding the optional onion, grate it into thin strips and mix with squash. Wash and remove the stem from the mushrooms then gently pat dry. Mix olive oil, 1/2 teaspoon of cinnamon, and all of the salt, pepper, sage and garlic for basting the mushroom. Remove the pits from the dates and dice into small pieces.
Stuff the Mushroom:
Place the mushroom caps on a cedar plank or nonstick tray. Brush them with the seasoned olive oil. Place a layer of grated Italian squash (and optional onion) in the mushroom cap. Add several tablespoons of mashed sweet potatoes forming a mound rising from the mushroom cap. Sprinkle the stuffed mushroom and filling with dry cinnamon and chopped dates.
Grill or Bake:
Grill or bake large mushroom caps at 375 degrees for 20 to 30 minutes. Smaller caps will take less time. Baste the mushroom cap with the seasoned olive oil about half way through the grilling or baking time. When juice begins to run from the bottom of the mushrooms cooking is usually complete. Removing the mushrooms now keeps them from getting soggy or soft. If you wish, the broiler may be used for a couple minutes to brown the tops. The dates are delicious when a bit crispy.
Serve:
Place the cooked sweet potato stuffed portobello mushrooms on a serving tray and sprinkle the tops with the roasted and salted Pepitas.
Enjoy!
For more fitness for diving information and healthy eating recipes for scuba divers visit ScubaFit.
Follow ScubaFit on Facebook.
Subscribe to FitDiver Magazine.